My Personal Story with Astrology
Around 9 years old, I stumbled across this tiny little divinity section in a local Barnes and Noble. Along with some oracle decks and Tarot cards, there was a collection of these mini astrology books. I picked up the book for Scorpio, my sun sign, and I was completely hooked. Even at that age, I was amazed – how was somebody who didn't even know me able to pinpoint so many facts and tendencies about me? Then I wondered, was it really possible to predict who we would get along with based on their sun signs? Even though I didn't understand all of the words and concepts, I held onto this book and continued to reference it until further.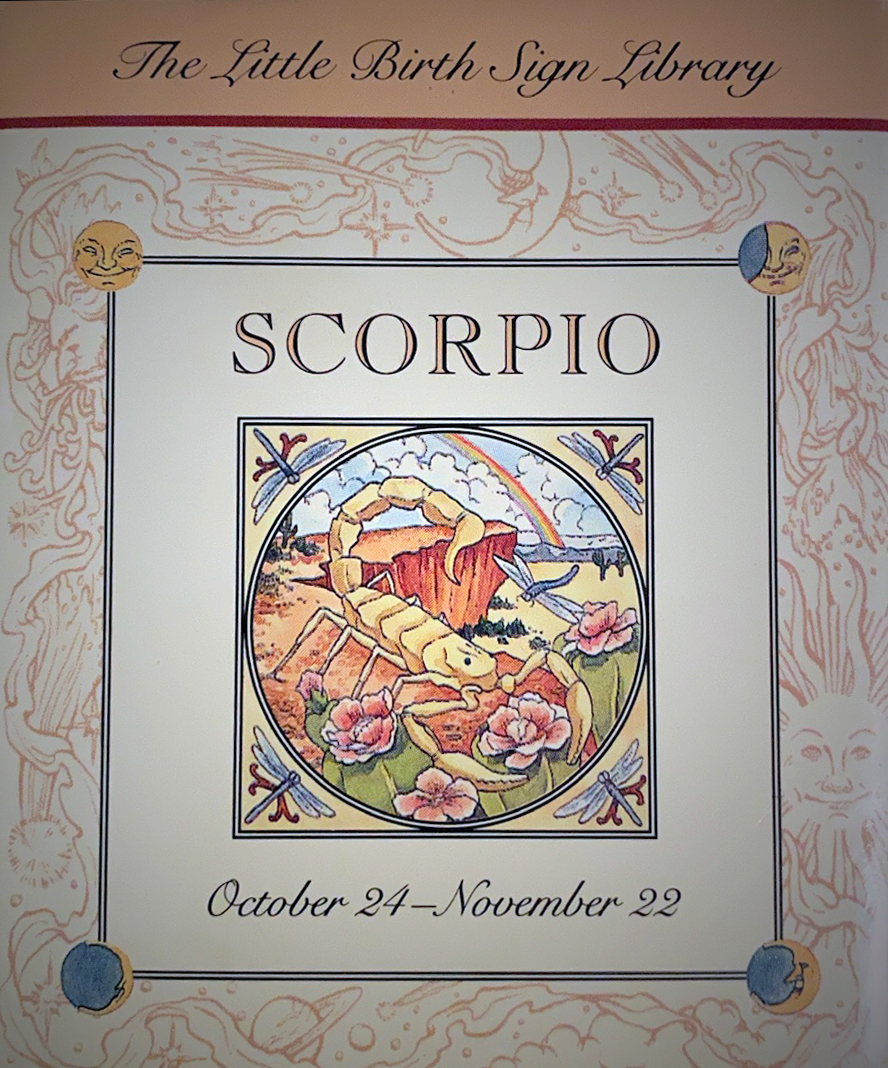 The actual mini-book, I still have today.
The next leap in astrological growth came when I was 13 or 14, and by then, we were connected to the internet! And, it was expanding. I stumbled onto the website Tarot.com, and while I was primarily teaching myself about the tarot through the free mini readings and card interpretations, I was also diving into the astrology section. My explorations only continued to grow.
So, my astrological journey feels like it's been a lifelong one. For the most part, I have been self-taught, experiencing bursts and leaps in understanding – starting around age 9, then 13-14, then my 20s, and most recently and seriously in 2017 and 2020. What started with following various astrology columns online and metaphysical magazines grew through myself receiving counsel from astrological readings and contributions of the local community, notably John Sacelli and Guy Spiro in Chicago. Today, my self-study continues, with my primary teachers being:
– Rick Levine
– Chris Brennan
– Judith Hill
… and a host of teachers from the Astrology Hub Inner Circle online community.
As a mother of a young daughter, my primary role currently is that of a stay-at-home mom, while most other free time is devoted to astrology study and practice. I am excited to expedite that growth with more consultations as my schedule allows.
Astrology Studies and Background
Self study – through the work of Jeffrey Wolf Green and Evolutionary Astrology, Spring 2017
Astrolynx Workshop with John Sacelli, July 1 + 8 2017
Self study cont. through Fall 2020
Steve Judd, Beginner's course in Astrology Module 1, Sep – Dec 2020
Rick Levine, Astrology Foundations 1, Sep – Nov 2020
Joined Astrology Hub Inner Circle community, Nov 2020 – Nov 2022
Steve Judd, History of Astrology Seminar, Dec 30 2021
Steve Judd, Beginner's Course in Astrology Module 2, Jan – Mar 2021
Rick Levine, Astrology Foundations 2, Feb – Mar 2021
Steve Judd, Beginner's Course in Astrology Module 3, Mar – May 2021
NORWAC (Northwest Astrology Conference) (virtual), May 28-30, 2021
Judith Hill, NORWAC post-conference workshop, Traditional Gem and Herbal Antidotes for Planetary Conditions, May 31 2021
Rick Levine, Chart Reading Extravaganza, Aug 2021
Joined Judith Hill's Academy for Astrological Medicine, Monthly Forecast Hour, June 2021 (ongoing)
Following Chris Brennan, The Astrology Podcast, and Auspicious Elections Podcast, Summer 2021 (ongoing)
Judith Hill, Academy for Astrological Medicine, The Astrology of Mental Health, Nov 2021 – Mar 2022
Newly a member of ISAR (International Society for Astrological Research), Feb 2022
Joined Judith Hill's Academy for Astrological Medicine, Apr 2022 (ongoing)
Rick Levine, Chart Reading Extravaganza 2, May 2022
ISAR Conference, Westminster CO, Aug 25 – 28 2022
Judith Hill, Academy for Astrological Medicine, The Astrology of Fertility, Aug – Sep 2022
Health Astrology Seminar, hosted by Judith Hill's Academy for Astrological Medicine, Oct 22 2022
Joined Rick Levine's Apprenticeship (Cosmic patron), Nov 2022 (ongoing)