UKRAINE AND RUSSIA – AN ASTROLOGICAL PERSPECTIVE – PART I: MERCURY RETROGRADE AND ECLIPSES
The original content of this article I wrote at the beginning of September — around September 12, 2022 to be exact. If you recall, at the beginning of September, Ukraine conducted a counteroffensive in Kharkiv and reclaimed an area of land comparable to all of what Russia had gained in the months prior. What was one astrological explanation to account for this change? This was the premise for this blog, however I wanted to compile and illustrate my points in chart form, which I never got around to, until now. While this information is still valid, one month later, we now have greater context with events that have come to pass since then. All this is to say, read with a pinch of grain of salt, forgiving the time gap.
There is movement going on in Ukraine.
On September 11, an article in The Mirror stated, "Troops are said to have regained control of 1,158 square miles of land in a rapid counter-offensive in the east taking a little more than 48 hours." (1)
On September 12, an article in the Washington Examiner described the massive retake of land in the past 72 hours, quoting urban war expert John Spencer on Twitter that, " 'Ukraine has launched the greatest counteroffensive since World War II.' " (2)
Why now? What astrologically has changed most recently in the past 3 days to account for this?
For one: Mercury retrograde.
But why? Doesn't Mercury retrograde mess up our computer, misplace our mail, and jam up traffic? Sure, yes. Mercury retrograde isn't the most celebrated planetary occurrence, I think is fair to say. Which is why I wanted to see what was occurring in each of the charts of Ukraine, Russia, Volodymyr Zelensky and Vladimir Putin. In regards to Mercury retrograde, I was intrigued. Looking ahead to October and the upcoming eclipse season, I was astounded.
Part I – Mercury Retrograde
Mercury went retrograde in Kyiv on September 10, 2022 at 6:39 am.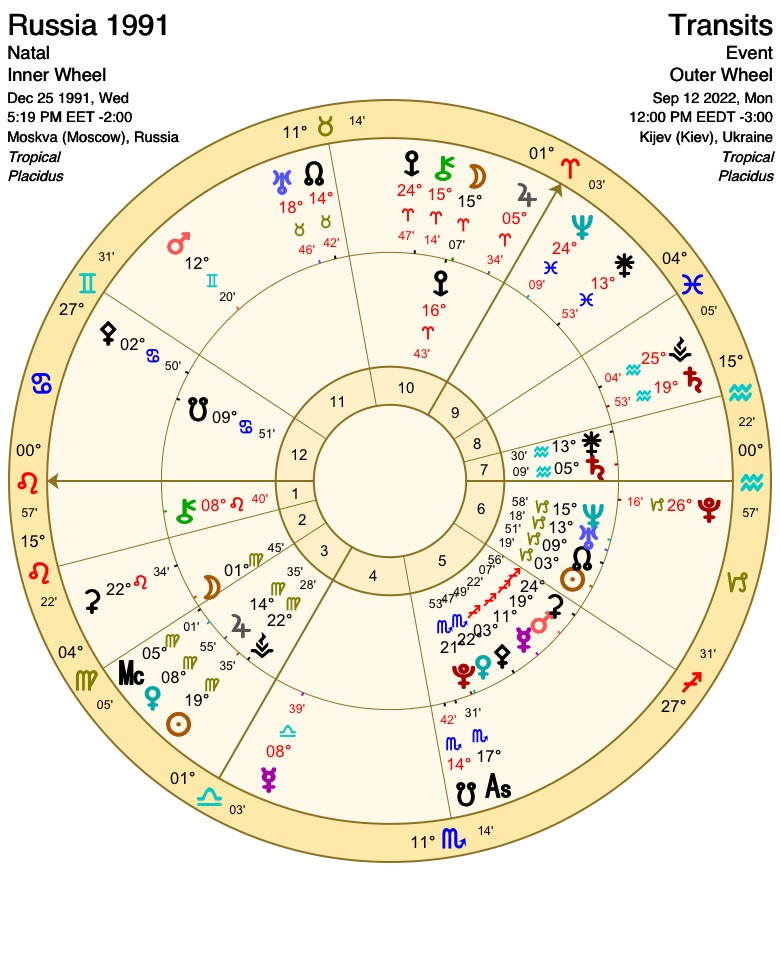 Russia's Chart
If you look at Russia's chart in Placidus, Mercury turned retrograde in the 4th house, close to the IC, which represents one's roots and homeland. This could suggest, literally, a regression in one's lands. Additionally, it will square the Sun, representing the leader of the country. The square indicates stress and conflict.
The birth chart information I use is the moment the flag was raised over Russia, which I have found to be most striking with a 0˚ Leo Ascendant.
25 December 1991 at 5:19 pm GMT
Moskva (Moscow), Russia
https://www.astrologyweekly.com/countries/russia.php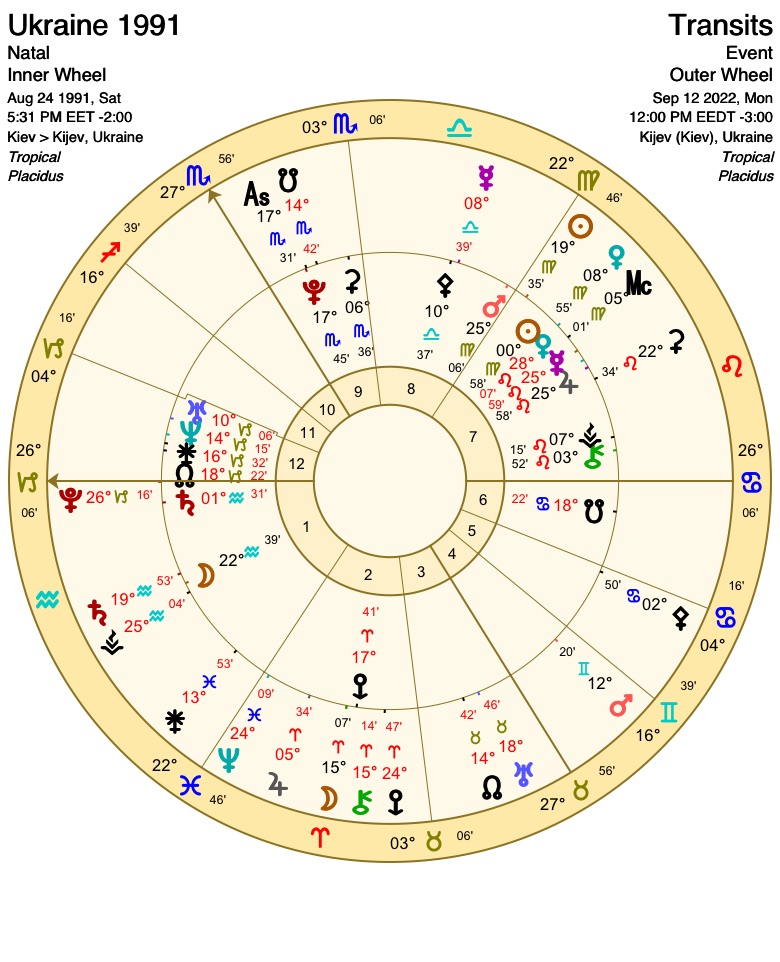 Ukraine's Chart
In Ukraine's chart I don't see Mercury retrograde's effect as prominently. Later in the month, Mercury will conjunct Ukraine's Mars, indicating potential flare-ups and conflict, with words at the very least. But for now, Mercury's effect seems fairly unobtrusive.
But I do see some other things…
Transit Saturn's retrograde within the past 3 days just moved back to within 3˚ to conjunct its Moon. In my practice, 3˚ orb and less with an aspect often shows the strongest effect of the transit. Therefore, moving beyond that 3˚ suggests a lessening of limitations and suppression upon Ukraine itself — whether you equate body of a country to mean the country's lands, or in mundane astrology the moon representing the people.
There is an Astrodatabank entry for Ukraine at 6:00 pm. However, the chart for Ukraine's proclamation with an Ascendant at 26 Capricorn has been far more striking to me.
24 August 1991 at 5:31 pm BGT (2:31 pm GMT)
Krivoj Rog, Ukraine
https://www.astrologyweekly.com/countries/ukraine.php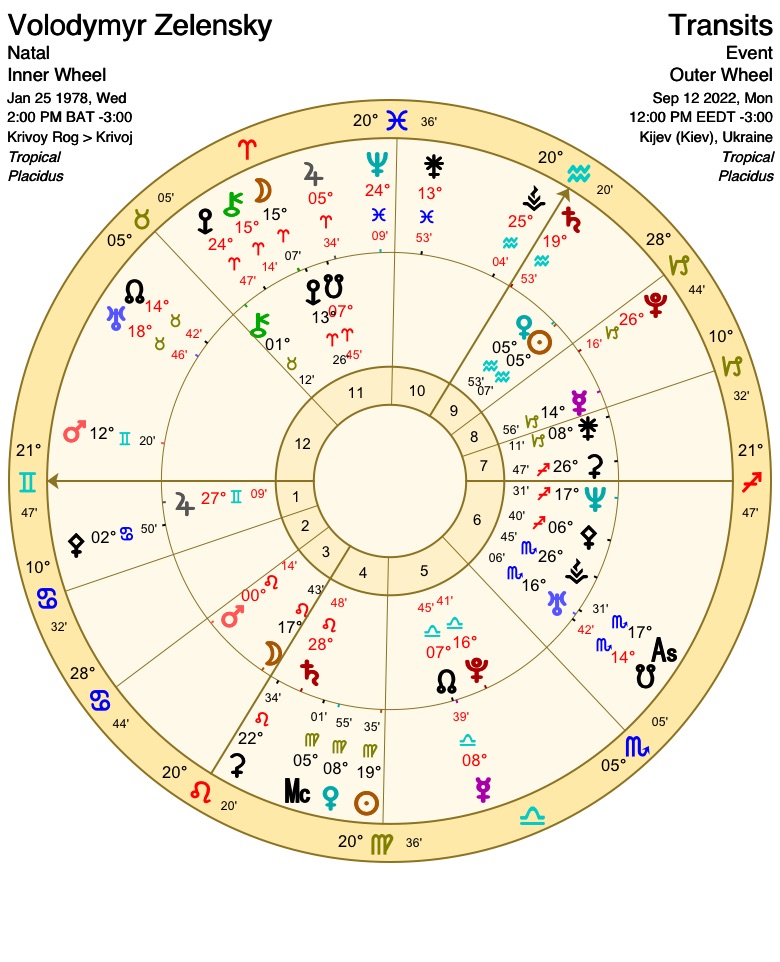 Volodymyr Zelensky's Chart
With a brief mention of Mercury retrograde, it is actually not so bad for Zelensky — it trines his Sun/Venus conjunction, and passes over his North Node. It will square his Jupiter Sep 25, which of all the things Mercury can trigger, is not so bad. I see this Mercury retrograde as generally energizing for him. Plus, it transits his 5th house, which can bode general good fortune – or at least, better. There is a lot more to observe further on in October and eclipse season for Zelensky, which I will expand on later.
The birth chart information I use is from Astrodatabank,
25 January 1978 at 14:00 (= 2:00 PM )


Krivoj Rog, Ukraine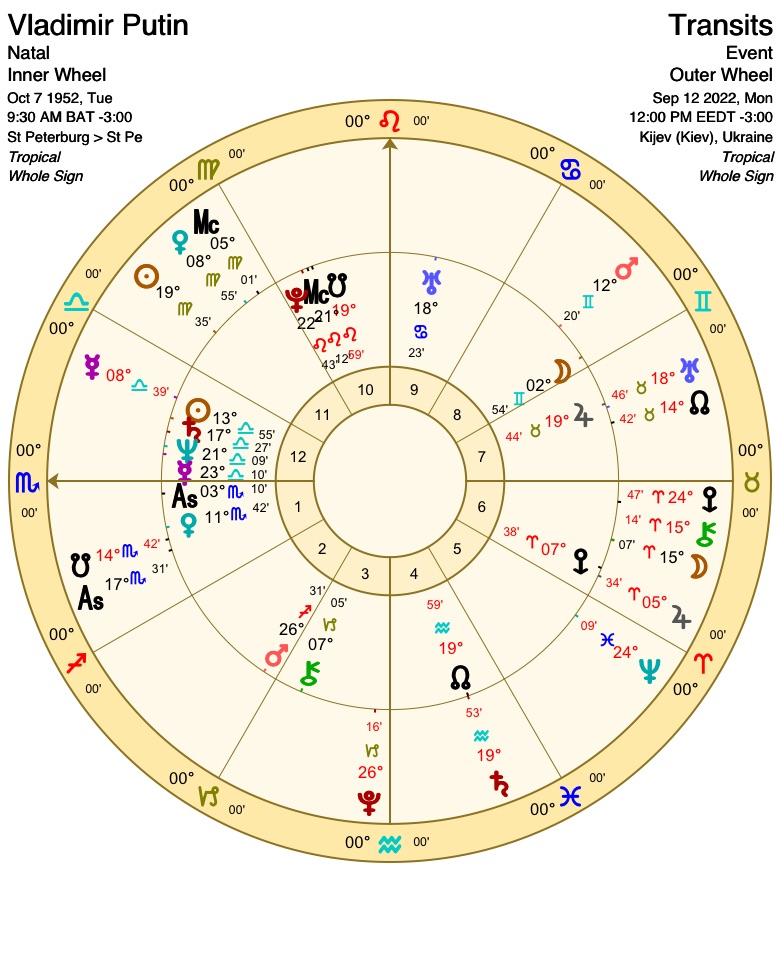 Vladimir Putin's Chart
I do not see the Mercury retrograde influence as strong on his chart, but there can be an argument made for it affecting his 11th house of friends and networks, since that's where the Mercury retrograde begins (Placidus). Aren't the Russian pundits now speaking up against the war? Not to mention, Mercury retrograde begins in Putin's 12th whole sign house of enemies (pictured above) and then dips back into the 11th whole sign house of friends and networks, giving further testimony to Mercury retrograde's possible effects.
The birth chart information I use is from Astrodatabank,
7 October 1952 at 09:30 (= 09:30 AM )


St.Petersburg, Russian Federation
So, let's compare. Key points of Mercury retrograde's movement from 08 Libra to 24 Virgo. (Abbreviations are used. Placidus house system used unless otherwise indicated.)

Ukraine
Zelensky
Russia
Putin
Mercury Rx
(neutral)

(Later) Conj Mars

Saturn Rx separates conj Moon

Tr Sun-Venus

Conj NNode

Sq Jupiter

Transit 5th house

4th house (homeland)

Conj IC

Sq Sun (leader)

Transit 11th, 12th houses (Placidus, whole sign)
Additional note – as the focal point of the war is Kiev, Ukraine, I am using this location in calculating all of the transit biwheel charts for ease. The changes in the angles (Ascendant/Descendant and MC/IC axes) between Kyiv and Moscow are nominal for our use in this section.
Also for clarity, I used the transit date of 12 Sep 2022, closer to the date I was using while looking at charts for this article, rather than the Mercury turning stationary direct transit time.
Part II – Upcoming: October 2022 and Eclipse Season
I want to take of note what the upcoming lunations and eclipses will be acting on in these charts. If I thought Mercury retrograde was interesting, was I in for a mind spin.
As an overview:
Libra New Moon – 26 Sep 2022, 12:55 am
Aries Full Moon – 09 Oct 2022, 11:54 pm
Scorpio New Moon Solar Eclipse – 25 Oct 2022, 1:48 pm
Taurus Full Moon Lunar Eclipse — 08 Nov 2022, 1:02 pm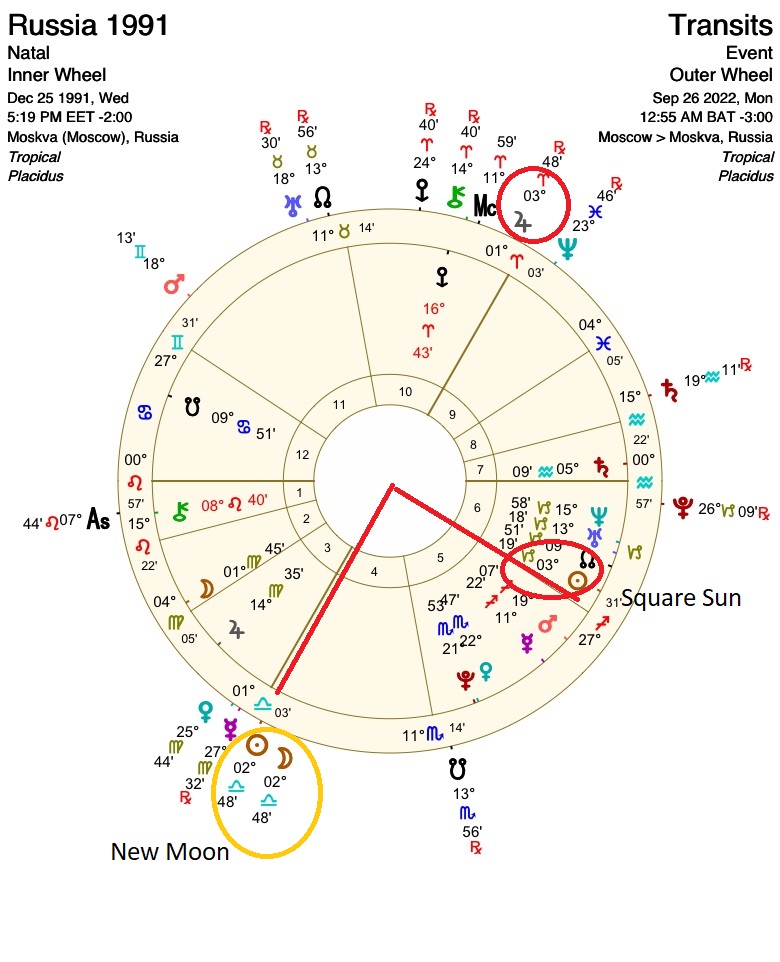 Russia's Chart
The Libra New Moon on September 26 occurs at Russia's IC (pictured above). This suggests a new beginning in terms of 'home' and roots, a country's foundations, and can quite literally mean its cities and infrastructure. As with Mercury retrograde passing over this area, this lunation also squares Russia's Sun, its leader. Basically, this can be a new beginning for good or for ill, but either way, it arrives at a cost to its leader. Plus, transit Jupiter is part of this equation, making what happens at this time louder and bigger – perhaps more than actuality, perhaps not. This remains to be seen.
The Aries Full Moon on October 9 squares Russia's Uranus-Neptune conjunction, its utopian (or dystopian) vision of itself.
The New Moon Solar Eclipse on October 25 occurs in Russia's 4th house (whole sign or Placidus), squaring its Saturn and its Ascendant. The Full Moon Lunar Eclipse on November 8 does not affect directly any points, but within 5-7˚ of Russia's Venus-Pluto conjunction.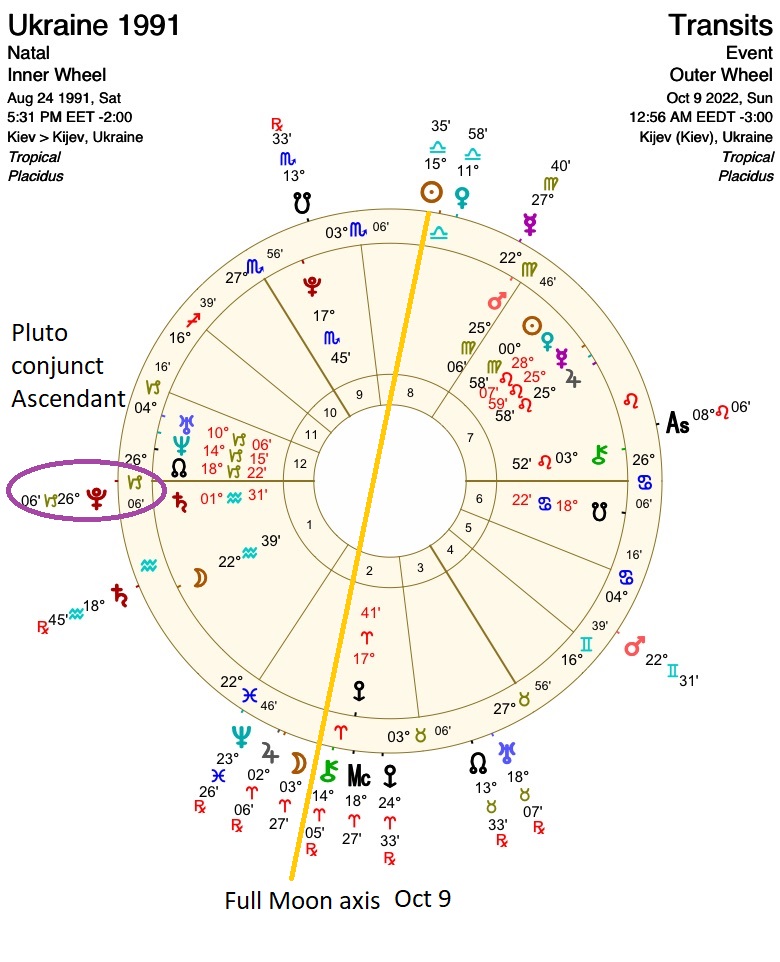 Ukraine's Chart
The Libra New Moon on September 26 is not activating Ukraine's chart much, but it is trining its Saturn. This gives the ability to create, build, plan, and put ideas into action more easily, perhaps through diplomacy or partnership (Libra).
The Full Moon on October 9, on the other hand, is occurring over Ukraine's natal Pluto, which spells big transformation and change. It is square Ukraine's Neptune and Nodal axis. The Moon will conjunct Ukraine's Eris as well. This could be either highly disorienting and chaotic, or suggest a great influx of energy towards a new vision. It could be both. Also note that transit Venus will be with the transit Sun, which softens the energy. This will be a lunation to watch for, and will be important to take in context.
Another factor you cannot ignore when looking at Ukraine's chart: look at transit Pluto. It began its passes over Ukraine's Ascendant as the war began. It has since retrograded backwards over the Ascendant, and it will turn direct again, moving over the Ascendant, in the same time frame as the eclipses over Ukraine's natal Pluto (pictured above). Furthermore, Pluto turns direct to the arc degree and minute of Ukraine's Ascendant on the Full Moon October 9. This blows my mind.
This is going to be big, whatever it is. Mercury will be direct, and it will moving into Ukraine's 10th whole sign house. It will be the Full Moon, just hours past transit Pluto turning stationary direct on Ukraine's Ascendant. I would bet on a declaration of some sort at this time, powerful transformation and/or things coming to light, this period of Oct 9-11,
The upcoming New Moon Eclipse on October 25 is not happening directly over anything in Ukraine's chart, which is good for the country. It is conjunct transit Venus, which also makes it more favorable. It is square Ukraine's natal Chiron, however, which is… interesting. This suggests there is a lesson on healing to be learned, or Ukraine has a lesson to teach, but not gracefully… perhaps through strife.
Lastly, the Full Moon Lunar Eclipse on November 8 is a complex case for Ukraine. The Moon is trine and sextile the Nodal axis and trine Neptune. The square energy that occurs to these points a month prior at the Aries Full Moon on October 9 will continue this story, but how? The trine/sextile energy would suggest an ease with letting go and at the same time allowing energy of visions and creative ideas in… except that the transit Moon is conjunct Uranus the disruptor, and the Sun is conjunct Ukraine's Pluto within a degree. Also by this time, Saturn will be moving direct towards Ukraine's Moon once again, suggesting once again bearing the burden of hard work and responsibility. All I can say is, whatever happens now will be huge for the country.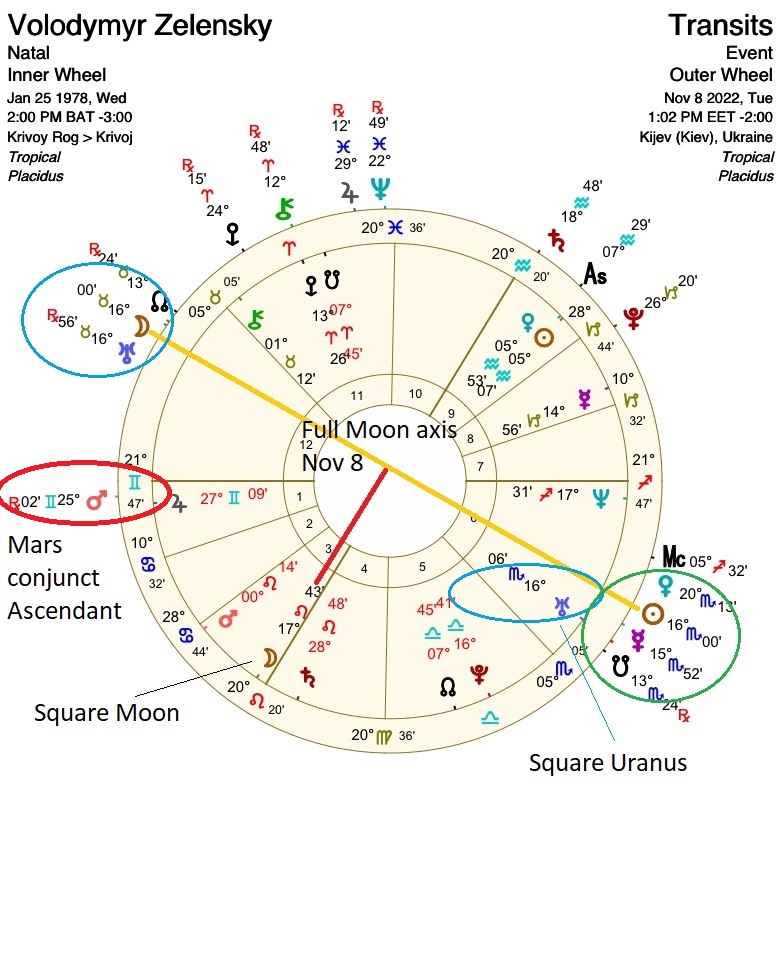 Volodymyr Zelensky's Chart
How is this man able to fight so hard? Thank you, transit Mars. (See, it is good for something!) It is also conjunct his Jupiter, adding to strength, optimism and bravado. Additionally, transit Saturn has been acting over Zelensky's MC. Has he not risen to the challenge of great somberness and responsibility as a leader during this time? These are the malefics at work – with great challenge can come great achievement.
The Libra New Moon on September 26 trines Zelensky's Sun-Venus conjunction, and is conjunct his North Node with a 5˚ orb. This suggests a renewal of one's convictions, values, and identity.
The Aries Full Moon October 9 is occurring across Zelensky's Pluto, with the Sun almost exactly conjunct his Pluto. This suggests a culmination, with the potential for transformation and/or regeneration, with transit Mars trine the transiting Sun and sextile the Moon. Reflexively, the Full Moon is trine to Zelensky's Moon, (the Sun sextile). I may be biased, but this definitely casts a positive light upon Zelensky at this time.
The New Moon Solar Eclipse with Venus on October 25 T-squares his Mars-Sun/Venus opposition. This suggests a call to fight as well as a need for upholding one's core values and identity. With transit Venus there, however, he may receive a diplomatic assist with this process.
The Full Moon Lunar Eclipse with transit Uranus and transit North Node on November 8 opposes his Uranus, which could affect his body's electrical system for good or for ill, or it may suggest radical convalescence (pictured above). In Scorpio, the transit South Node, Mercury, Sun and Venus are all together conjunct Zelensky's Uranus. There might be something oddly balancing about this whole configuration, but I can't quite put my finger on it. All of these Scorpio and Taurus placements mentioned are square to Zelensky's Moon. There will be a profound lesson here for him.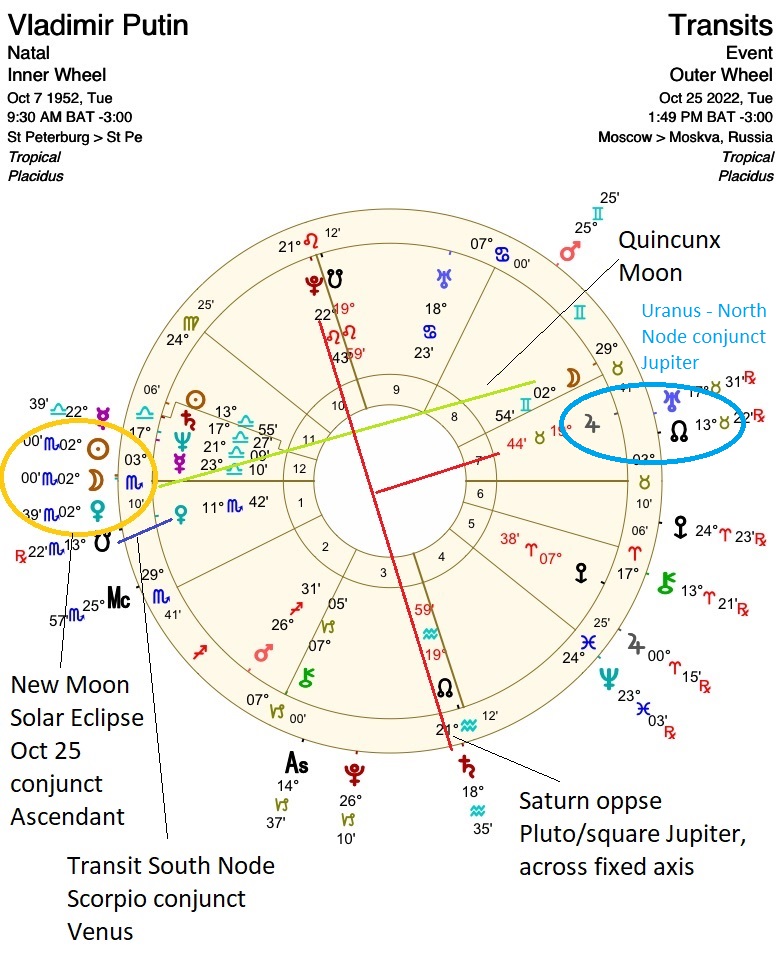 Vladimir Putin's Chart
The Libra New Moon on September 26 may be generally energizing to Putin, as he has four planets in Libra natally (Sun, Saturn, Neptune, and Mercury). However, this is his 12th whole sign house of retreat, confinement, the unconscious, the hidden realms, and enemies. It will be interesting to see how this plays out.
At the Aries Full Moon on October 8, the Sun conjuncts Putin's Saturn, and Venus conjuncts his Sun, but the Moon is opposite this configuration. This suggests a pull, a tension across his Libra planets, centered upon his Saturn – his methodology and structures. With transit Venus there, this suggests to me a call to diplomacy.
The New Moon Solar Eclipse on October 25 occurs over Putin's Ascendant within a degree (pictured above). Yes, that's right. But remember, it does occur with transit Venus. But then again, it quincunxes his Moon strongly. For a man of reported ill health, this lunation would be one advised to watch out for. With the additional fact that the transit South Node is now within about 2˚ orb of his Venus in Scorpio at this time, a medical astrologer would draw their client's attention to the areas of Scorpio and Venus for them. Plus, transit Saturn and Uranus are across Putin's fixed axes planets of Pluto in Leo, Jupiter in Taurus, and the Nodal axis in Aquarius.
Finally, the Taurus Full Moon Lunar Eclipse on November 8 occurs with the Sun conjunct within 5˚ to Putin's Venus and the Moon conjunct Jupiter within 4˚ orb. Depending on his health, one would advise him to watch out — especially since transit Saturn is T-squaring these planets, and by then, Saturn will be moving direct. The fixed axes in the body will be under a great deal of stress: ear-nose-throat/thyroid/lower jaw / sexual organs-excretory system/ cardiac-arterial system/spinal column / veinous system/ankles/electrical system of the body.
To put it simply, for a man who is reportedly not in the best health, the upcoming eclipses do not look pretty for him.
Let's have a condensed look at the next lunations and their key movements to the following charts, September-November 2022.
Ukraine

Zelensky

Russia

Putin

Libra New Moon (Sep 26)

Tri Saturn

Tri Sun-Venus

Conj NNode (5˚ orb)

Conj IC

Sq Sun

Co-habitate 12

th

house (whole sign)

Aries Full Moon (Oct 9)

Conj Eris

Sq Neptune-Nodes

Pluto conj Asc

Opp Pluto/Sun conj

Sq Uranus-Neptune

Opp Saturn/Sun conj

Venus conj Sun

Scorpio New Moon Solar Eclipse (Oct 25)

Sq Chiron

T-sq Mars-Sun/Venus

4

th

house

Sq Asc

Sq Saturn

Conj Asc

Quincx Moon

Taurus Full Moon Lunar Eclipse (Nov 8)

Tri/sext Neptune-NNode

Opp Pluto/Sun conj

Sq Moon (6˚ orb)

Sun conj Pluto

Pluto conj Asc

Saturn conj Moon (4˚)

Opp Uranus

Sq Moon

Opp Venus-Pluto/ Sun conj (5-7˚ orb)

Conj Jupiter/Sun oppose

Saturn sq Jupiter

Saturn conj NNode

Saturn opp Pluto (4˚ orb)
If we're to look at this as simply as possible, then we must simply weigh the transits of Ukraine and Zelensky together versus Russian and Putin. Who is receiving the most harmonious transits (i.e. benefics, trines/sextiles), and where are the most stressful transits (i.e. malefics, squares, oppositions, quincunxes, transits to Asc/Dsc, MC/IC) stacked against a chart? Using the lunation cycle is just one cross-section or snapshot of the transits available to us for analysis — but especially with eclipses, I believe they are powerful and justifiable times to use.
I think the October 25 New Moon Eclipse squaring Russia's Saturn and Ascendant is quite potent. To me, it seems clear that Russia will be under greater stresses at the October 25 eclipse than Ukraine. As for their leaders, the aspects to Putin's chart seem much more sensitive, especially health-wise, than for Zelensky.
The difference between the Full Moon Lunar Eclipse on November 8 for Russia versus Ukraine is that while it occurs over both of their Plutos — suggesting profound transformation — it additionally happens within orb to Russia's Venus-Pluto conjunction. On the other hand, it squares Ukraine's Moon within about 6˚ orb. Aside from the Full Moon configuration, transit Saturn will be 4˚ off of Ukraine's Moon, while squaring Russia's Venus-Pluto conjunction, and by this time moving direct once again towards the exact square.
Okay, so arguments could be made for either Russia or Ukraine experiencing difficulties at the November 8th eclipse. Let's look at their respective leaders, then. For Zelensky, it's basically a story of Uranus and his Moon, whereas for Putin, it affects much of the fixed axes in his chart, which would have also been previously affected the few weeks prior at the New Moon Eclipse.
In Summary
Buckle up, everyone. As if Scorpio eclipses weren't transformational enough, they will be amplified further this year with Pluto aspecting the Sun/Moon and turning direct at the same time as the Full Moon on October 9.
There is a lot going on here. Mercury retrograde is just the beginning.
Of course I am biased. However, I'm trying to look at the astrology objectively, simply weighing the transits against each other. I have my hopes and opinions about what the future may portend, but I will save those for myself, knowing very well by now that context is everything. Keep watching the skies, everyone.
(1). "Ukraine 'launched biggest counter-offensive since WWII to end Russian barbaric empire,' " by Stephen White. The Mirror. 11 Sep 2022.
https://www.mirror.co.uk/news/world-news/ukraine-launched-biggest-counter-offensive-27963816
(2). "After 200 days of war, the tide has turned in Ukraine's favor," by Jamie McIntyre. Washington Examiner. 12 Sep 2022.
https://www.washingtonexaminer.com/policy/defense-national-security/after-200-days-of-war-the-tide-has-turned-in-ukraines-favor